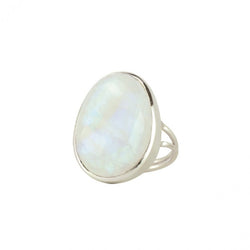 Strength Ring- Empowerment in Silver
A gorgeous rainbow Moonstone, known for it's empowering energy and ability to foster courage and confidence, is set in a sterling silver bezel. Each stone is unique and just what you need.  
Sterling Silver
Stone 1 1/8" x 3/4"
SKU: 70042

Please note all sale product is final sale and not eligible for exchange or return.